News & Calendar 2



"Faith Lessons on the Death and Resurrection of the Messiah"
- WEEKLY LESSONS -

LESSON 1. When Storms Come (Sea of Galilee) -
Just as Jesus stilled the storm, demonstrating his power over the natural world,
so he also takes charge of our raging struggles.

LESSON 2. Piercing the Darkness (Kursi) - Kursi was believed to be the home of demons.
There, in a deliberate choice to aggressively confront evil, Jesus healed the demon-possessed man.

MAY 5 -
LESSON 3. Gates of Hell (Caesarea Philippi) - in the center of this pagan city, Jesus declared,
"Upon this rock I will build my church," challenging believers to boldly wage war on evil.
-- NO BIBLE CLASS ON MAY 12 (MOTHER'S DAY) --
MAY 19 -
LESSONS 4-5. The Weight of the World (Capernum/ Gethsemane) -
Manufacturing olive oil involves intense pressure. This process exposes a fresh perspective
from which we can fully appreciate Jesus' sacrifice, which is our anointing.

-- NO BIBLE CLASS ON MAY 26 (Pastor Out of Town) --
DOWNSTAIRS AFTER WORSHIP IN THE EDUCATION WING
CHANCEL PAINTING PROJECT AT CHURCH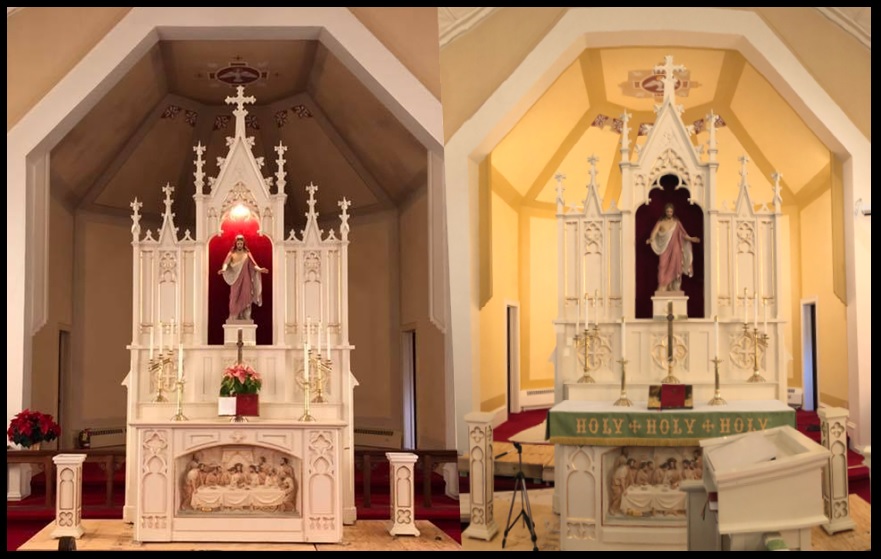 Here's a fun "BEFORE & AFTER" picture of the chancel after the first part of our
painting project was completed this past week!

Thank you to all the members of St Paul for donating to make this project possible.
Special thanks also to memorials given by the family and freinds of Caroline Schroeder
to get this painting project started.
Special Offer while supplies last...
Now available at church:
FREE DVDs of the Movie "To the Ends of the Earth"
Experience the impact the Gospel message had in the lives of people in Acts 16. Thank God for the Gospel in your life and be inspired share your faith with others. You may also consider joining us for a six-week Bible study course based on scenes from this movie begining Sunday, Nov 11 thru Dec 16
(Downstairs each week after worship)

CLICK ON THE PICTURE BELOW to see a MOVIE PREVIEW