News & Calendar 2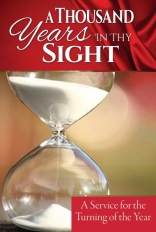 Join us Monday, December 31, 2018 (6:30 pm) for

New Year's Eve Worship

under the theme,

"A Thousand Years In Thy Sight."

This service will celebrate God's gift of time and the blessings he brings us through it. Acknowledge together God's gift of seconds, minutes, hours, days, years, decades, centuries, millennia, and eternity. Holy Communion is offered in this service to strengthen and comfort us in faith, enjoying His real presence as we enter into the New Year together.
Special Offer while supplies last...
Now available at church:
FREE DVDs of the Movie "To the Ends of the Earth"
Experience the impact the Gospel message had in the lives of people in Acts 16. Thank God for the Gospel in your life and be inspired share your faith with others. You may also consider joining us for a six-week Bible study course based on scenes from this movie begining Sunday, Nov 11 thru Dec 16
(Downstairs each week after worship)

CLICK ON THE PICTURE BELOW to see a MOVIE PREVIEW