Text Page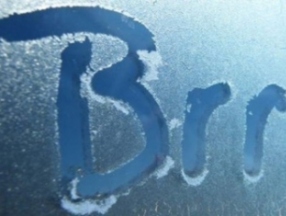 "For creation was subjected to futility, not by its own will,
but by the will of the one who subjected it, in the hope that even creation itself will be set free...to share in the glorious freedom
of the children of God."
~
Romans 8:20-21

PASTOR'S MESSAGE: "Brrrrrrr!"

Walking in the post office someone asked, "Who ordered this cold weather anyway!"

"Wasn't my idea!" I replied.

In
Romans 8:20
it's clear this extreme cold wasn't the creation's idea either! It was subjected, "Not by its own will," the apostle says, "but by the will of the one who subjected it."

When it says, "subjected to futility" the point is that creation can no longer attain the purpose intended for it by the Creator. God originally fashioned the world for our happiness and enjoyment. But when sin entered the world, that purpose could no longer be fully realized. Cold weather's just one example of that. We're at the mercy of the creation and can't control what it does. A meteorologist can predict it. He can explain it with terms like "arctic air" or "polar vortex," but we have no power over it. We bundle up head to toe to avoid exposure. We crank up the furnace in our homes (Thank God for fossil fuels!)

Bottom line: people dream about overcoming the effects of sin by working together toward common goals to bring more prosperity, peace, and harmony to the people of the earth. But just about the time modest progress is made, the presence of sin in every person frustrates that progress at every turn it seems.

In the verse above Paul teaches us why God "subjected" things like bitter cold on the creation. He did this "in the hope" that we in our mad pursuit of worldly happiness, might stop and look instead to Him for real hope and a better future in Christ His Son. Even the creation appears to look to God's promise of a future hope that's anchored in the redeeming work of Christ Jesus our Lord. Jesus came to undo the ruin Satan brought into this world by leading Adam and Eve into sin. His death and resurrection not only sets us free from sin and death; it motivates us to extend the same promise of hope and new life to our neighbor, so that we can have heaven in heaven some day.

No, we don't have any control over the creation; nor are we able to undo all the other far-reaching effects of sin either, including death, the worst effect of all, but we do have full deliverance from all this in Christ! No matter how cold it is outside, God's love in Christ warms our hearts and gives us an eternal source of hope and joy!