We Believe
Beliefs
St Paul Ev. Lutheran Church belongs to a larger Lutheran church body known as the Wisconsin Evangelical Lutheran Synod (WELS). "Synod" is a word that means "walking together," both in what we teach and practice. As Christians we know we share a spiritual oneness with every brother and sister the world over that trusts in Jesus Christ as true God and Savior. He took away our sins when he died and rose again. We are saved by faith in his perfect life and innocent death on the cross. The good life we live doesn't add to that; we can't earn God's favor by our good deeds. Instead, they are fruits of faith we do in thanksgiving for him saving us. "Walking in faith" together means teaching what Jesus taught and living it. Sadly, because of sin and false doctrine, not all churches walk together according to the same set of teachings. We don't pretend to know it all, but are thankful when Christians can rejoice in the truth together.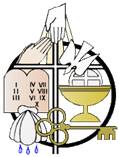 Learn more CLICK HERE about our teachings and the Lutheran (Christian) walk of faith.

Questions & Answers about Christian teaching and life situations...






Our Mission Statement:
As members of the WELS, we share with our fellow believers in our synod's stated mission:
As men, women, and children united in faith and worship by the Word of God, the Wisconsin Evangelical Lutheran Synod exists to make disciples throughout the world for time and for eternity, using the gospel in word and sacrament to win the lost for Christ and to nurture believers for lives of Christian service, all to the glory of God.